MOTOR HOUSING
Aluminum alloy casting, features rigid structure and light weight.
Motor framed with radiant cooling fins, permits 40% (dual speed 40/20%, YSF-series 15%) duty cycle.
MOTOR BRAKE
" Electro-Magnetic Brake Controller" a unique design in its field, R.O.C. Patent No.27417 features simultaneous braking upon release of P.B. even under full load.
LIMIT SWITCH
Fitted at both top and botton ends, shuts off powerautomatically to prevent load chain from running out.
LOAD CHAIN
Grade 80 case hardened alloy steel chain.
HOOK
Hot forged high tensile steel, rigid and durable, 360°swivel, fitting with safety latch to assure safe lifting.
HOIST BRACKET
Double high-tensile alloy steel plate bracket, features rugged and durable construction.
TRANSFORMER
Power to pendant control reduced to 24V or 48V for safer operation.
MAGNETIC CONTRACTOR
High performance non-fuse circuit breakers allow frequent trouble cycling with free operation.
PHASE ERROR RELAY
A specially designed electric board prevents motor from running at it reverse phased.
MECHANICAL BRAKE
Advanced design, assuress secure braking even undre overload. In conjunction with motor brake, features "DOUBLE BRAKE SYSTEM" for safety and durability in hoist operation.
PUSH BUTTON PENDANT
Offers light and durable switching controls.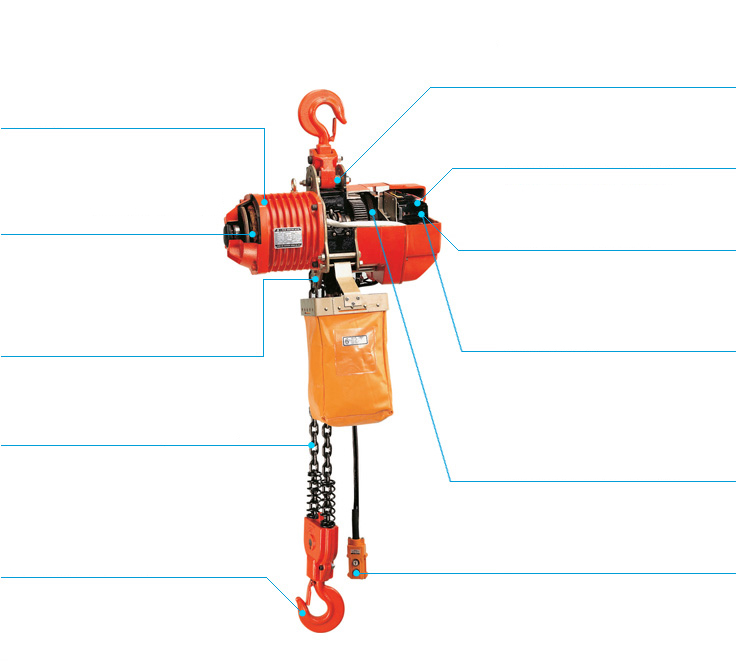 * For special applications, please contact our company representative or authorized distributer.