Description
Heavy Duty EW Open Winch comes with various configurations to cover a wide range of lifting capacities, ranging from 8t to 600t. It will be the best choice for customers who require heavy operation,precise load positioning or comprehensive automatic operation.EW winch heavy trolley is the best choice for big load and low headroom operation.
As a high-tech product, the EW series open winch represents a technological advance in the crane manufacturing industry. Multiple patents have been granted for this revolutionary creation.
Features
1、Heavy operation;
2、Compact design;
3、Light deadweight;
4、Small wheel pressure;
5、Load distribution;
6、Stable running.
Application
Heavy duty Overhead Crane or Gantry Crane in Papermaking industry, Electricity generation industry, Waste to energy industry, Steel industry, Petrochemical industry, Metallurgical industry and etc.
Advantages
Improve productivity, lower maintenance cost, extent crane use life, and increase return on investment, thereby creating more value for customers.

Parameters or Specifications
SWL: 8t to over 600t
Lifting height: 6m, 9m, 12m, 18m......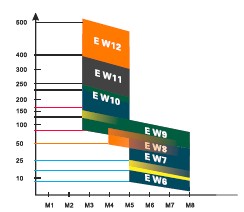 The EW type of Electric Winch can be devided into seven basic specifications,namely EW6-EW12.The smallest load is 8t and the bigest load is more than 600t,meeting the requirements of various industrial situations and systems.
Options
1、Turn over Hoist;
2、Anti-sway device;
3、Automatic positioning device;
4、Winch servicing and monitoring device;
5、Remote diagnostic tool.